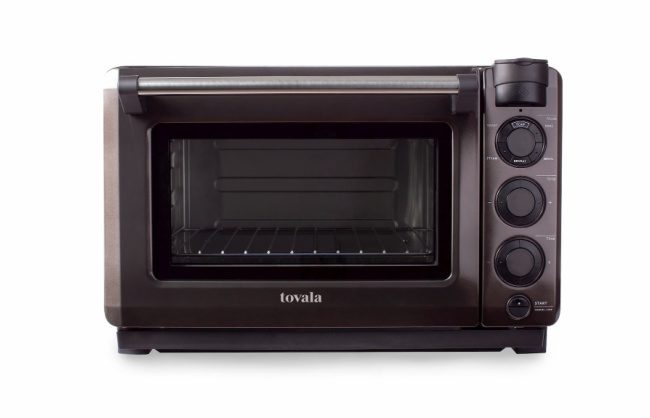 What is the Tovala Smart Oven?
The Tovala Smart Oven is a conventional oven that is capable of steaming, baking, broiling, and toasting your meals. Not only does it have all of these cooking settings available to use, but it also has the ability to switch between each setting to cook each meal to perfection.
Although Tovala's physical product is their smart oven, their food delivery service is practically embedded into the usage you get out of the oven. Since this product is unique in the fact that it offers both a product and a service, it has a relatively niche target market.
What really sets the Tovala Smart Oven apart from the competition is its revolutionary barcode scanning system. With a simple smartphone scan of a QR code or barcode, your Smart Oven accesses data from the cloud and follows the chef's recipe for that specific meal – switching between steaming, baking, and broiling for the ideal cook.
When your meal is done, the Tovala Smart Oven sends an alert to your smartphone, letting you know it's time for dinner.
What are Tovala Meals?
4Tovala creates flexible and easy meal plans that are pre-made and delivered right to your door. Their meals are also made to specifically work with the Tovala oven.
They have well-composed, tasty and healthy options like their miso-glazed salmon with edamame brown rice, charred citrus broccoli, and pickled ginger. This can be scanning the meal-specific barcode, you'll be eating what the company considers the "easiest and healthiest home cooking you've ever had."
It's worth noting that a sizable amount of complaints were focused on the meal kits themselves rather than the oven. Some of the main culprits include pricing and not enough variety (especially for vegetarians and vegans).
Tovala Meals range from $9.99 to $39.98 depending on the meal.. With most meals being priced at $12.99, it evens out to be more than reasonable. However, there are some meals where it would make more sense to actually make yourself, buy premade at the grocery store, or even order it at a restaurant instead.
For example, one meal that particularly stood out to me was their Creamy Tomato Basil Soup, which comes with freshly baked biscuits for dipping. This meal is priced at $12.99, which admittedly is pretty steep for tomato soup.
Designed for the Busy Professional
With so many meal options to choose from, with no prep and 15 minutes of cook time, Tovala is perfect for the busy professional.


With an ever-growing list of chef-inspired healthy meal recipes, members have the choice between three single-serving meals per week ($36) or three double-servicing meals per week ($72).
The best part about the Tovala Smart Oven: you skip the entire meal prep process and still eat a healthy, balanced, and filling meal.

Tovala's User-Friendly Process
If you love eating healthy but time after work is limited, the Tovala Smart Oven may be a game changer. With each meal falling somewhere between 400-800 calories, Tovala is a great option for those who like to eat healthily and are mindful of their calorie intake.
The zero prep system allows you to enjoy globally-inspired recipes in under 30 minutes – with most meals averaging 15 minutes of cook time. Here is Tovala's three-step process of making dinner:
Step 1: Pick your meals for the week so they show up at your front door.
Step 2: When you arrive home from work, put the meal in the Smart Oven, scan the barcode, and press start.
Step 3: Plate and enjoy your meal after 15 minutes of cooking.
Intuitive Meal Prep App
So what separates the Tovala Smart Oven and its subscription-based meal plan from the countless Blue Aprons out there?
Tovala comes with an intuitive app that puts you in control of your Smart Oven. Whether you want to create your own healthy meal, access chef-inspired healthy meal recipes, or try out different cooking techniques (steam, bake, broil), Tovala is a highly versatile steam oven designed to cook meals perfectly. You decide how much involvement you want to have in the dinner prep process.
Time-Tested Cooking Method
Outside of the bar code scanning system and the chef-inspired healthy dinner choices, there's really nothing too fancy about the cooking process. Mimicking the step-by-step cooking techniques of top chefs, the Tovala Smart Oven strategically switches between steaming, convection baking, and broiling – making your dinner taste like it was cooked in a professional kitchen.
With a mission focused on "never compromising between convenience, health, and taste," Tovala designed an entire meal plan system around clean ingredients without the added work. And if you want to break free from the meal plan subscription, you still have an app that teaches how to use multiple cooking methods.
The Convenience Factor
Delivered weekly to your doorstep in an insulated recyclable box, the three Tovala meals are parceled out nicely between marinated proteins, chopped veggies, and sauces. All you need to do is scan away, press start, and let the Tovala Smart Oven work its magic.
The end result is a healthy, tasty meal done in about 15 minutes.
Final thoughts: Is the Tovala Smart Oven Worth it?
Ultimately, at the end of the day, it all comes down to whether or not a product works as promised. Many "smart" appliances have a reputation for being a bit gimmicky and not worth the higher price tag for technology that is more or less "experimental".
Tovala seems to hold up to most of their claims, with many reviews boasting about how this oven has made coming home to dinner so much easier. However, many people still are firm on how you're essentially paying for convenience since the oven and the meals are a bit expensive. So, it will come down to whether or not you prioritize the convenience the Tovala Smart Oven provides.
Resources and Further Reading
Tovala – Explore Menu – Fresh Meal Delivery Service. 1 Minute of Prep.
Amazon.com: Tovala Smart Oven Pro, 6-in-1 Countertop Convection Oven – Toast, Steam, Air Fry, Bake, Broil, and Reheat – Smartphone Control Steam & Air Fryer Oven Combo – With Meal Subscription Credit ($50 Value)
Bottom Line
Tovala is a smart oven that can be paired directly with a meal delivery service. The Tovala Smart Oven is optimized to help alleviate almost all of the pains of grocery shopping and cooking.
Source: Tovala
PROS
Globally-Inspired Dishes
Clean Ingredients
Zero-prep
Dynamic Steam Cooking
Recyclable Trays
One Vegetarian Meal Option Per Week
Tovala often offers sales and promotions on their Smart Oven
CONS
Some people are not satisfied with the variety of the weekly meals
The meal kits are a bit high