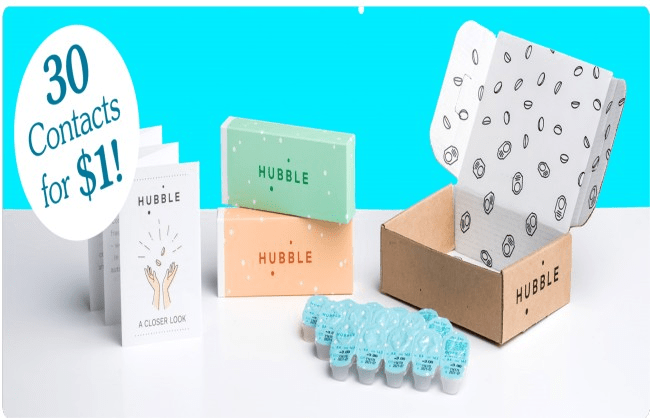 Product Features:
Hubble aims to ease the process of buying contacts. While it is easy to forget to order or pick up new contacts before you run out, Hubble offers a subscription delivery service that creates more efficiency. Some of the other features offered by Hubble include:
$1 15-day trial
FDA approval
400+ million contacts sold
Auto-shipping options
Personalized frequency and fit options
Cancel anytime
Secure checkout
Aesthetic packaging
Provide UV protection
PROS
FDA Approved
Affordable
Simple Delivery
Contacts for a Variety of Conditions and Needs
Transparent Company
HSA & FSA Debit Cards Accepted
15-Day Trial for $1
CONS
Quality of Contacts is Not The Best
Older Materials Used for Production
Specific Prescription Size Needed
Limited Options
Return Policy is Complicated
BOTTOMLINE
Hubble is a contact delivery service that provides affordable options for those with poor vision and certain conditions.
What is Hubble?
Hubble is a subscription contact delivery service that offers personalized solutions. With relatively affordable prices, auto-ship options, and a variety of fits, Hubble aims to ease the process of buying contacts. By simply following prompts on their website, Hubble considers your prescribed brand, Rx, doctor, and price point in order to find the perfect, FDA approved option for you.
By shipping automatically every 28 days to your home, you will be saved a trip to the store, and eliminate the risk of forgetting to get new contacts. Hubble claims that they are attempting to change the way people look at buying contacts. With a 28-day supply costing $39, Hubble is a budget friendly option for those with poor eyesight or varying conditions.
Where Can You Use Hubble?
Hubble's appeal is that it auto-ships directly to your home, to save you time and ensure that you never run out of contacts. You can sign up for Hubble directly from your phone or computer, then rely on the home-delivery service every 28 days. You no longer have to worry about calling your doctor, going to the store, or forgetting to get contacts before you run out. With aesthetic, modern boxes of contacts delivered right to your door, Hubble gives you one less thing to worry about.
Who's This For?
Hubble is for anyone who wears contacts. The company was created in order to offer a more affordable and efficient service. Some people who may benefit from Hubble include:
The girl who always forgets to get contacts before she runs out
The man who is looking to find a more affordable way to get contacts
The woman who hates driving to the store to pick up contacts
Someone looking to save time and have one less thing to worry about
Those looking to get contacts or glasses
Cons to Consider
While many customers had positive experiences using Hubble, some people reported negative experiences as well. Some of these include:
No way to contact a real person for support
Cancelling can be extremely difficult
Relatively low-quality contacts made of older materials
Discomfort can occur
Shipping speeds are not always fast
Many customers say the contacts are dry
Where to Buy
The only place to purchase Hubble contacts is directly on the website.
In order to set up auto-shipping, you need to subscribe to Hubble. First, you will enter the brand of your contact prescription, Rx, doctor, and payment information. You can then make changes to your delivery frequency and other specifics.
The Hubble website needs to gain a full understanding of the size, fit, and prescription needed to send you personalized contacts. Therefore, Hubble can only be purchased through the web or mobile site.
The Competition:
Scout by Warby Parker:
Warby Parker started their own contact delivery service called Scout. On their website you can browse by brand and prescription to verify the correct contacts and set up shipping. The great thing about this delivery service is that it works for new clients as well. If you feel like you need contacts but have never been to the eye doctor you can book an eye exam with Warby Parker in person.
1800 Contacts:
1800 Contacts is a well-known and popular contact delivery service that consumers love. With an incredibly easy to understand system, ordering contacts online has never been easier. 1800 contacts offers low prices, free shipping, and free returns.
Final Verdict
With plenty of contact delivery services on the market, Hubble contacts is one of several brands trying to ease the process of buying contacts. While Hubble is affordable, their quality is rather low, and their customer service department is seriously lacking. I would suggest trying another budget friendly option such as 1800 contacts or Warby Parker first.