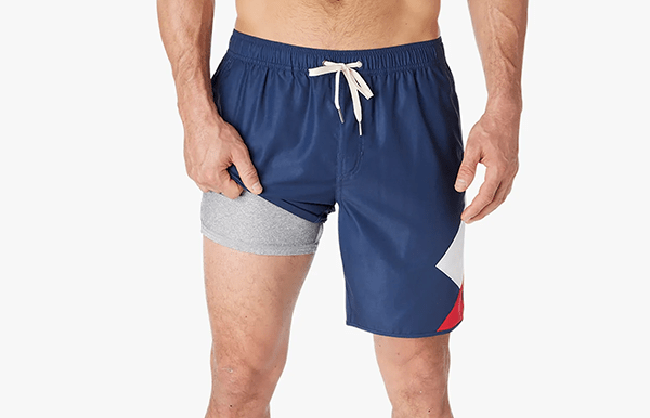 Buying swimwear can be hit or miss. Since a swimsuit isn't something most of us wear everyday, it can be easy to justify paying very little for something that may or may not be the most comfortable or last the longest.
For those who live by the coast, however, a decent swimsuit can be as essential as a shirt or underwear. If you're someone who needs to have a good swimsuit that feels good to wear in and out of the water, Fair Harbor might be the best choice.
In this review, I will go over the basics of Fair Harbor, their products, their practices, as well as my own personal experience with their Anchor swim shorts, to help you decide if buying a swimsuit from this brand is right for you. In addition to this written review, there will be an unstructured and unfiltered unboxing video, as well as a full video review.
PROS
Comfortable
Stylish
Sustainable business practices
Pockets
CONS
Not many feminine styles available
Price
BOTTOMLINE
Fair Harbor uses recycled materials to make swimwear that both look good and feel good to wear in or out of the water. These are perfect for those who live by the beach and find themselves wearing swim shorts almost every day.
Features
Constructed from recycled plastic bottles
Lots of styles and variety available
4 way stretch
Extra support
Odor resistant
Breeze Knit liner
Quick dry
What Is Fair Harbor?
Fair Harbor is a New York based company that produces stylish and comfortable swimwear and other apparel. Their styles and philosophies are very much inspired by the beach town that the sibling founders grew up in, which is also where the company gets its name.
What sets Fair Harbor apart from other brands is in the construction of the apparel that they make. The brand is very proud of the fact that they use recycled plastic bottles to make their swimwear, along with many of their other products.
This business practice came about from wanting to protect our oceans, along with beach towns like the ones that the founders grew up in. Fair Harbor makes it well known that they use recycled materials in their products, going as far to include the fact on product tags and almost all marketing material.
Fair Harbor Anchor Swim Shorts Unboxing
For the purposes of this review, I have received a pair of Fair Harbor's best selling swimwear for men, that being the Anchor shorts with the red stripe design. The package arrived at my home in a sort of paper bag like packaging adorned with Fair Harbor's branding.
Something I appreciated was how easy it was to open the package, I didn't even need to use a knife or scissors to get my shorts out of the bag. All of the materials used to pack these shorts were paper based and recyclable, which fits the mission statement of the brand. It would be really weird and hypocritical if a brand that talked about how they recycle so much materials packed their product in layers of disposable plastic, so this makes sense for Fair Harbor to do the opposite.
I was rather impressed with how soft and elastic the material of the shorts felt, I wouldn't even know that they were made of mostly recycled plastic. The design was also very simple, but appealing to the eye. Honestly, they reminded me a lot of the lounge shorts that I wear regularly.
As someone who's never spent more than $15 on a pair of swim shorts, I could tell right away that these were of premium make and quality. They felt so much better to just hold than any other pair of swim shorts I've owned.
Another thing that impressed me with these shorts was the amount of pockets. There were 2 pockets on the sides and 1 zipper pocket on the back. I've never really thought about pockets on a pair of swim shorts before, but these felt very well constructed and like they would be extremely handy if you were just walking around a beach or a boardwalk.
Overall, I was very pleased with the quality and feel of these swim shorts, and I was ready to test them out on the sunny beaches of Ohio.
Features
As I've already stated, the feature that sets Fair Harbor swimsuits apart from most other swimwear on the market is in their construction. The brand is very proud of the fact that their swimsuits, along with all of their apparel, is made mostly from recycled plastic bottles, going as far as to tell you how many bottles went into making each piece both on the website and each product tag.
But these are more than just standard swimsuits that happen to be made of upcycled materials. Fair Harbor swimsuits are made to be ultra comfortable, made with a 4 way stretch design in the fabric so that they stay flexible and move with you. The fabric also offers extra support, dries relatively quickly, and is odor resistant for those extra sweaty days on the beach.
A feature I really like is the Breeze Knit liner that Fair Harbor has opted to use on their men's shorts, rather than the fabric mesh you typically see. I never really liked the mesh in other swim shorts I've tried, as I found it to be extremely uncomfortable, but the Breeze Knit liner felt like wearing just a pair of boxer briefs under my shorts.
Fair Harbor produces a lot more than just swimwear. Recently, the brand has been branching out and using their technique of creating polyester fabrics from recycled plastics to make shirts, jackets, pants, and much more.
Fair Harbor Anchor Swim Shorts Test
I received my pair of Fair Harbor swim shorts in the early winter in Ohio, so I wasn't really able to head down to a beach or public pool to test them out right away. Luckily though, my family has a hot tub in our backyard, so on a crisp January night when it was 60 degrees out for some reason, I went to test out my shorts.
To start, they were very comfortable to just wear and walk around in, reminding me a lot of the lounge shorts I wear around the house typically. I could absolutely imagine wearing just these and a T-shirt all day at the beach or even going about near the shore.
As I mentioned in the previous section, I was very impressed with the Breeze Knit liner, as I have had a lot of bad experiences in the past with the mech liners of cheaper swimwear. The comfort of these shorts was a nice surprise, I would never know that they were made mostly from plastic had I not been told beforehand, and they looked great with a T-shirt or just by themselves.
The shorts performed and felt just as good in the water. At no point did they ride up or feel uncomfortable and they remained this way for as long as I sat in the hot tub. Thankfully, the colors didn't run or wear out at all and they came out looking just as nice and clean as they did going in.
The shorts took a little longer to dry than I expected them to, though that's likely because I hung them up to dry in my bathroom, rather than leaving them in the sun. I feel like they would dry a lot faster had I been wearing them around in the hot sun and not left them in a cold bathroom in the Ohio winter.
In pretty much every way, my Fair Harbor swim shorts impressed me. They looked great and felt great to wear, much better than any other pair of shorts that I had owned previously. I imagine I'll be using these for a long time, especially when the warmer weather rolls in.
How Can You Use Fair Harbor Products? / Who Is This For?
Fair Harbor products couldn't be easier to use. If you've ever worn a swimsuit or really any kind of apparel before, this should be self explanatory. Fair Harbor swim wear can be used outside the water just as well as it does submerged, however, as they are very stylish and discreet.
These are definitely more high end products, and are priced accordingly. The Anchor swim shorts in particular cost $55, much more than a standard pair you'd find at Walmart. These are built to last, however, with their comfortable feel and solid construction.
I see these serving folks who live on or near a coast the best as they can use them both as regular apparel and as swimwear when the mood to go swimming or surfing arises. The eco-friendly construction also makes Fair Harbor appeal greatly to environmentalists who want to reduce the amount of plastic garbage in our oceans as much as possible.
Web Infrastructure / Branding
The Fair Harbor official website is very nice looking and slick, though it does have some minor issues. I've mentioned before how I don't like it when a product site bombards the user with a promotional pop up upon entering, but I don't talk about this as much anymore since it seems like this has become the norm.
I'm bringing this up now, however, because the Fair Harbor site goes a step beyond and gives the user that pop up multiple times in one session. I usually have the website up in a separate tab the entire time I'm working on my reviews, so I got pretty upset with the amount of times I had to click out of that ad.
Some content on the site also didn't load as quickly as I would have liked, but this wasn't too bad for the most part and all links I tested went to where they were supposed to. Other than these issues, the site is rather nice to look at. I especially appreciate how Fair Harbor displays the amount of plastic bottles that were recycled to make each product, showing that they're very clearly proud of the work that they do.
Branding and marketing materials really do a good job to evoke those feelings of summertime fun that inspired the founders so much in their youth. Lots of imagery of water, waves, beaches, surfing, and just regular people having fun helps to capture this feeling of casual beach fun.
Should You Buy It
If you live by the coast, going to the beach everyday, and want a swimsuit that is going to feel comfortable to wear both in and out of the water, then Fair Harbor is for you. Additionally, Fair Harbor is a good choice if you want ethically constructed apparel that helps to remove plastic garbage from the ocean.
I will say that the best way to recycle a plastic bottle is to turn it into another plastic bottle, since that can be done over and over again, whereas after you throw away a swimsuit, it's likely to remain in a landfill. However, using recycled plastic bottles to make apparel is a step in the right direction, at least until private companies become more motivated to properly recycle their trash.
If you live in a colder area, like the midwest or the heartland, and only wear a swimsuit to the local pool or lake a few times a year, then Fair Harbor might not be for you. In this case, you would probably be content with a cheaper swimsuit purchased from a big box store.
Where to Buy
As of now, the best place to buy a swimsuit from Fair Harbor is the official website. Here you can not only look at the large selection of swimwear available from Fair Harbor in both masculine and feminine styles, but other apparel like shirts, bras, pants, and much more.
Competition
Like Fair Harbor, swimsuit brand Londre uses recycled plastic bottles to make all of the apparel they produce. Londre, however, focuses almost entirely on women's and feminine presenting swimsuits that all look a lot more stylish than those from Fair Harbor, but come with a higher price tag.
A single top from Londre can cost $80 or more, whereas those from Fair Harbor are about $60. Londre may be the better option for some feminine presenting individuals, as Fair Harbor is a little lacking in these styles, but I believe that Fair Harbor products are more varied and priced more fairly.
Berlook is another brand that uses recycled materials to make swimwear and focuses entirely on feminine styles, like Laundre. Outfits from Berlook are far more affordable than those from Londre, with 1 piece suits often being less than $50.
Berlook also has Fair Harbor beat in terms of variety in women's and feminine styles, offering many different styles and patterns in both 1 and 2 piece varieties. Still though, Fair Harbor is the best, and one of the only, options for ethically sourced swimwear in masculine styles.
Final Thoughts
Fair Harbor impressed me quite a bit, not only in the environmentally friendly way their apparel is constructed, but in the comfort and styles provided by their products. I really liked how my pair of swim shorts felt and, had I not been told beforehand, I wouldn't know that they were made mostly of plastic.
I imagine that I'll be using my pair of Anchor swim shorts from Fair Harbor for a long time, as I find them comfortable enough to both swim in and walk around in. I still would rather plastic bottles be recycled back into plastic bottles, as that can be done almost infinitely, but since that doesn't happen as often as most would like, I think this is a great way to reduce plastic waste in the world.
Resources and Further Reading